Neurobit Lite built-in neurofeedback protocols
For firmware v. 2.1
Location of the head electrode

Simplified* formula of the target variable

Reinforced band (Hz)

Suppressed band (Hz)‡

Default session duration (min.)

Range of effects

Remarks

Depth

CZ or PZ

relative† level in high Theta / low Alpha band

6-9

3-5.5

45

deep relaxation
mind/body integration
self-regulation
well-being
meditation
hypnagogic imagery

Especially good, when you fill exhausted or disregulated. Session is done with closed eyes, maybe additionally covered with hand; or in dimmed place. You can lie down. Good time may be the middle of daily activity. The same protocol can also be helpful in classical meditation.

Alpha-theta

PZ or CZ

relative levels in Alpha and Theta bands (two target variables)

5.5-8,
8-11

3-5.5

45

visualization
meditation
creativity
enhanced art performance
inner awareness
access to normally unconscious contents
recovery from trauma or addictions
mind/body integration

Session is done with closed eyes, usually reclining or with meditative posture. Recommended in periods, when you face some psychological challenge. Or regularly, for better performance and/or as a support for meditation.

Relax

PZ or CPZ

relative level of the Alpha waves

8-11

-

30

general mental relaxation
immunity to stress
reduction in stress effects
freedom from fear
creativity
memory

Best in the afternoon. Session is done with closed eyes. Recommended especially, when you are feeling burn out, overloaded, you are experiencing "races of thoughts", you are feeling anxious or annoyed. Also when you face creative challenges.

Focus

PZ or CPZ

relative level of waves from the upper Alpha subband

10-13

-

15

concentration (focus)
psychological endurance
freedom from fear and stage fright
self-confidence
self-awareness
memory
response time

Particularly adequate before public speeches, important meetings, sports achievements. (Also recommended for situations aforementioned for the Relax protocol.)

Peak

CZ, CPZ or C4

relative level of SMR waves

12-15

-

10

psychophysical integration
emotional intelligence
sensual sensitivity
response time
precision
self-control
bright mood

Recommended among other things before negotiations, as well as artistic performances, for improvement in mood and interpersonal relations.

Attention

CZ or CPZ

quotient of the SMR and the Theta levels

12-15

4-8

10

attention
reduction of the number of errors
perceptiveness
efficiency of learning
making decisions.

Good especially for learning or study, or before long periods of driving.

Energy

C3

relative level in 15..18Hz band

15-18

-

6

alertness
attention
energy
clarity
concentration on surroundings

Best in the morning, when a lot of matters await you.

Monitor

CZ or other site

relative levels in 4 brainwave bands

4-8
8-12
12-15
15-28

45

Protocol intended for brainwave monitoring in 4 basic EEG bands: Theta, Alpha, SMR (Beta1) and Beta (Beta2-4). It detects and signals a dominant brainwave band.
* Simplified formulas of the target variable, for general orientation. There may be scale coefficients etc.
† Amplitudes in above specified bands are related to total amplitude in band 4-28Hz.
‡ For all protocols, excessive levels in bands 1-4 and 20-28Hz additionally block feedback signal.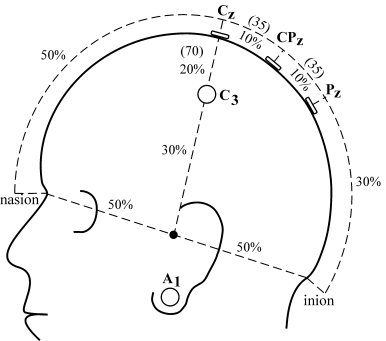 EEG electrode sites typically used for above training protocols

Dr. Drapes explains how to find electrode sites on the head.
English | Flash video | 1:00 | 10 MBytes