Neurobit Lite features
Neurobit Lite neurofeedback trainer is equipped with numerous features facilitating its personal use, among other things:
See also:
Most neurofeedback devices, also intended for self-use, are difficult to apply. Their effective use requires considerable technical knowledge and time-consuming exploration of the neurofeedback discipline. Neurobit Lite has been designed with special consideration for simplicity of usage. Its application does not require specialized knowledge, only familiarization with accessible manual.
The set contains all the accessories and working materials necessary for the training.
The device allows ease of movement: it is small, light weight, and does not require connection to a personal computer (although interoperability with a PC has been provided). The equipment can be carried easily (e.g. hung on a belt), also during the training.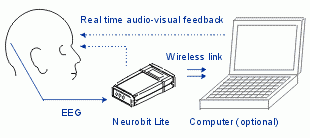 A simple tone or a single sound is often applied as audio feedback, issued in the moment when the signal exceeds the given threshold. This limits the efficiency of training and it may be the reason for drowsiness.
Neurobit Lite generates the sounds of natural instruments. These sounds change pitch depending on results, giving a constantly developing melody. Several instruments are available. It is also possible to configure other sound parameters.
The feedback signal is also presented by bar gauges and digital values on the LCD screen.
The device is equipped with a function of the automatic adjustment of the difficulty level, depending on the current parameters of the EEG signal. Four fixed, predefined levels are also available.
The device is equipped with the infrared interface (IrDA standard) for communication with a personal computer. Most portable computers have built-in IrDA ports. For desktop computers, inexpensive IrDA adapters to USB port are available.
Optional computer software, such as freeware BrainBay, or commercial applications BioExplorer and BioEra, allow extra visual presentations (graphs, animations, DVD films or games) of feedback signal, analysis of training scores and data storage.
BioExplorer also interoperates with third party biofeedback games, for example BioPlay package by Itallis and Neuropuzzles by Brainclinics.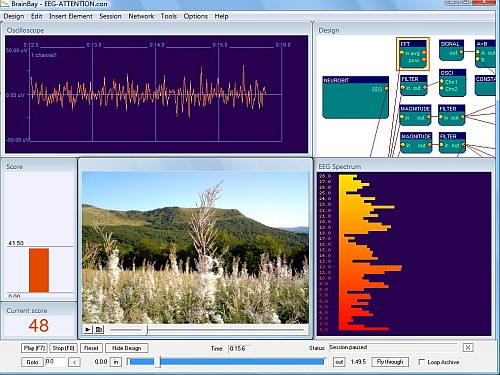 Quick start instructions for BioExplorer
Quick start instructions for BioEra
Good electric contact between the measuring electrodes and the skin is the prerequisite to correct recording of EEG signal. Conductive paste is applied for this purpose. As a rule with other equipment, it is necessary to also apply abrasive gel (e.g. Nuprep) to the skin. Usage of such a preparation may cause allergic reactions or infections.
In the Neurobit Lite, the very good parameters of measurement circuit allow elimination of abrasives.
Contact of electrodes, important for EEG measurement quality, may be disturbed by such influences as motion.
Neurobit Lite is equipped with the automatic supervision of electrode contacts during training sessions. This function has previously been available only in the most expensive equipment.
Electric signals recorded on the scalp, apart from the activity of the brain, contain components reflecting other physiological phenomena as well (e.g. muscle tension or eye movements). These artifacts are undesirable in peak performance training and in many devices they are sources of false feedback signals.
Neurobit Lite gives only credible feedback signals, thanks to the automatic detection of these kinds of artifacts.
The EEG signal on the scalp is very weak (measuring a dozen microvolts or so). Its measurement is subject to robust interferences, such as from the mains power lines or radio signals. These interferences cause serious problems in many neurofeedback systems (even those equipped with filters of mains power signal). In such cases, searching of locations distant from power lines or application of extra metal screening may be necessary.
In contrast, the Neurobit Lite is characterized by high immunity to external interferences and it is free from the problems mentioned above.
The device enables high EEG sampling frequency (up to 1024 Hz) and wide frequency band (up to 100 Hz). Both parameters can be controlled by the user for measurements transmitted to PC.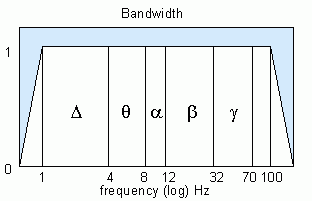 Biofeedback is constantly enriching field. Device's firmware can be upgraded through the Internet. Thanks to this, user is able to get new features and improvements without physical unit delivery to support service.
Programmers can use the API of Neurobit Lite device, enabling rapid integration with applications processing EEG data. The API is free of charge for non-commercial uses.
Simple, free Neurobit Recorder program for recording of EEG signal from Neurobit Lite on computer disk, e.g. for research purposes. Output files in EDF format can next be processed in typical EEG analysis software, such as EEGLAB.
The device casing permits comfortable application in various conditions: The device may be handheld, fastened on a belt, or kept lying or standing on a flat surface.
The capacity for independent use by more than one person is provided. The setup and the results of training are kept independently for every user.
A number of options, such as configuration of the training and parameters of sound, enable adjustment of the device to one's own preferences. The options are available through a hierarchical menu. Most of the parameters (e.g. tone of sound, level of difficulty) can be adjusted independently for every type of training.
Power supply from batteries ensures mobility and safety. The device uses two size AA (R6) generally available alkaline (or NiMH) batteries.
Device power consumption is low. One pair of alkaline batteries typically suffices for over 70 hours of continuous work. At the typical training plan (25 minutes every other day) this means six-months' use.
Electrostatic discharges can damage electronic devices. Circuits for EEG signal measurements do not usually possess the necessary protection. Neurobit Lite is protected against static electricity.
Several measures have been taken for protection against electrical hazard, including: battery power, device isolation from the environment, double insulation of measuring wires and plugs compatible with DIN 42802 standard. The measuring electrodes' current is significantly lower than limits specified in EN 60601 (IEC 601). The device fulfills requirements for electromagnetic compatibility standards EN 55022 (CISPR 22) and EN 55024 (CISPR 24). The intensity of infrared radiation used for wireless communication does not exceed the limit of sight protection specified by IEC 825.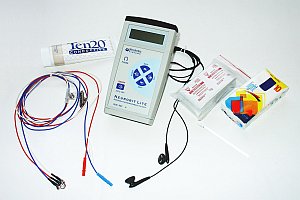 The standard set contains all accessories and working materials necessary for the training:
Neurobit Lite 100 (menu in English or Spanish),
IrDA to USB adapter (for communication with optional computer software),
Set of 3 silver electrodes with wires and metal clip,
Stereo earphones,
Conductive paste Ten20 (tube of 114g),
Glass spatula,
Alcohol pads (50 pieces),
Paper tissues (10 pieces),
2 alkaline AA batteries,
Operating manual (in English or Spanish),
Warranty card.
Extended sets additionally include:
The sets have:
2-year warranty as a standard. Extension is also possible.
30-day money back warranty